Hi,
Maybe someone would like to help Oregon Health Sciences University (OHSU) with a systems problem. At the end of this email, I used Insightmaker sketched out a first draft design, but obviously needs a lot more work. There are probably many scenarios that would need to be run to find the bottlenecks and improve the design.
Richard
Here is the OHSU design image on their website.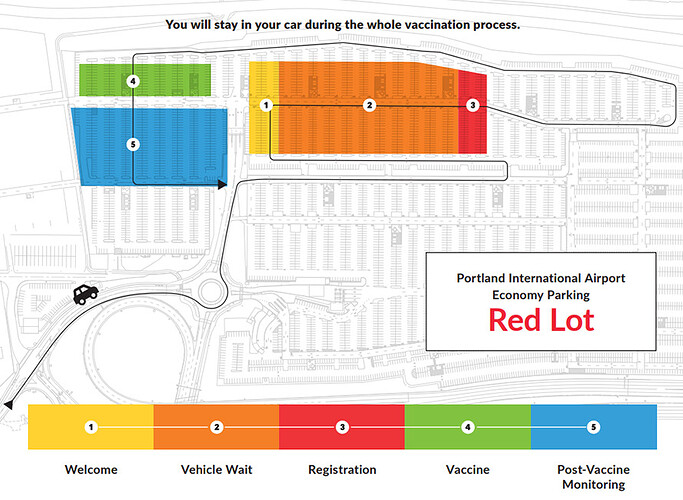 They designed a mass vaccination site at the empty Portland Airport economy parking. Fridays, Saturdays and Sundays, 8 am to 7 am with multiple (not sure how many) appointments per time slot allowed online at 15 minute intervals. Many volunteers directing traffic and orange cones to guide people.
Load Like a Ferry - they loaded about 10 -16 vehicles in a lane
Waiting in Lanes. - 10-16 vehicles per lane were loaded starting with lanes 1 and lane 9, then a complete lane was released to register
Registration. - two registration stations in series with 4 lanes and then released when released into two lines.
All of this took place over acres of parking lot.
The article says they were doing 5,000 per day and then on Saturday 3/6 they allowed 5,800 appointments.
"Gridlock at PDX COVID vaccination site leaves people waiting hours for a shot
Updated Mar 06, 2021; Posted Mar 06, 2021"